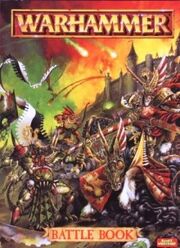 Warhammer: The Game of Fantasy Battles (formerly Warhammer Fantasy Battle and often abbreviated to Warhammer, WFB or WHFB) is a tabletop wargame created by Games Workshop. It is the origin of the Warhammer Fantasysetting.
The game is designed for regiments of fantasy miniatures. It uses stock fantasy races such as humans (The Empire, Bretonnia, Kislev), Elves (Dark Elves, High Elves, Wood Elves), Dwarfs, Undead, Orcs and Goblins, as well as some more unusual types such as Lizardmen, Skaven and the daemonic forces of Chaos. Each race has its own unique strengths and flaws; Wood Elves, for example, have the most powerful archers in the game but have poor overall defence and Bretonnia have the strongest cavalry but weak infantry.
Warhammer has been periodically updated and re-released since first appearing in 1983, with changes to the gaming system and army lists. The current official version, the eighth edition, was released on 10 July 2010.
Inspiration
Edit
Published in November 1981 for its second edition (1978 for the very first one), and written by Richard Halliwell and Rick Priestley, Reaper is considered the ancestor of Warhammer Fantasy Battle. Reaper is more a skirmish game for up to 30 miniatures rather than a large-scale wargame.
First Edition
Edit
The first edition, written by Bryan Ansell, Richard Halliwell and Rick Priestley was published in 1983 and consists of a boxed set of 3 black and white books illustrated by Tony Ackland: Vol 1: Tabletop Battles, which contains the core rules, turn sequence, creature lists, potion recipes and features an introductory battle 'The Ziggurat of Doom'. Vol 2: Magicwhich explains rules for wizards of 4 different levels and the higher order arch magi. Higher level wizards have access to more powerful spells. In this system, a wizard picks his spells at the start of the game, must have the correct equipment (usually Amulets), and as he casts each one it depletes a store of 'constitution' points, until at zero points he could cast no more. Vol 3: Characters introduces 'personal characteristics' statistics, rules for roleplaying (including character advancement through experience points and statistic gains, random encounters, equipment costs, and alignment) and has a sample campaign "The Redwake River Valley".
Very little world background is given at all and the race descriptions are kept to a minimum, and most of the background given is in describing the origins of magic items. Some notable differences to later editions are the inclusion of Night Elves (later Dark Elves), the appearance of Red Goblins - and that Citadel Miniatures order codes are given.